Suoi Tranh Waterfall in Phu Quoc Island
07/05/2020 lúc 12h 46' / (1627 views)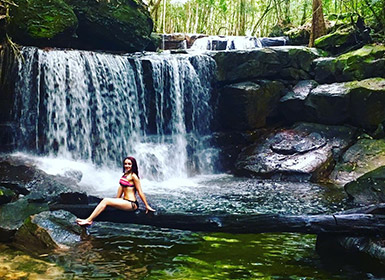 The Suoi Tranh Waterfall is one of Phu Quoc's popular ecotourism attractions and consists of a garden area decorated with large animal statues.
Suoi Tranh Brief introduction
Suoi Tranh Waterfall in Phu Quoc Island is a 4 metre-tall waterfall that's surrounded by lush greenery, numerous walking paths, natural caves, and rock pools.
A 10-minute drive from Duong Dong, this natural attraction is ideal for those looking to escape the bustling town centre. Nature-lovers can enjoy recreational activities such as picnicking, camping and bird-watching, with small walking paths available for those who prefer a leisurely hike through the jungle. Various flora and fauna such as shrimps, birds, orchids, ginseng and mushrooms can be found here.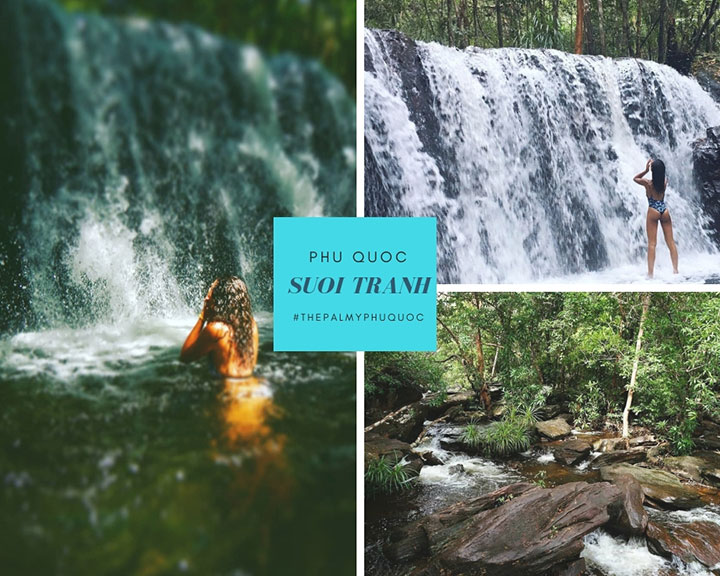 The Tranh Waterfall is not the biggest or the most dramatic of its kind, but it does have its own charm and surrounding forest is quite peacefull.
The trail leading to the waterfall consist of series of small waterfalls and streams. Look in to the stream you will see small fish and freshwater shrimp. In the forested area you will also see wild orchilds, exotic mushrooms, and a variety of moss and lichens. It takes about 20 minutes to reach the Tranh Waterfall from the entrance of the park.
If you're feeling adventurous, you can hike further up from the main waterfall site, following the 15-kilometre stream to reach Hang Doi (Grotto of Bats), which measures 200 metres in height and houses unique stalactites. Suoi Tranh Waterfall is also located near Ham Ninh Fishing Village, where you can experience the daily life of the local fishermen and enjoy authentic regional specialities. Like most waterfalls, the best time to visit Suoi Tranh is during the rainy season (May until September). Entrance is priced at VND 5,000 while parking is available at an additional VND 10,000.

Due to its close proximity to the main town, Suoi Tranh Waterfall is usually packed with locals during weekends and national holidays, so we highly recommend heading there early to get the best picnicking spot.
How to get there from The Palmy Phu Quoc & Spa
You can rent a motorbike at the resort to reach Suoi Tranh Waterfall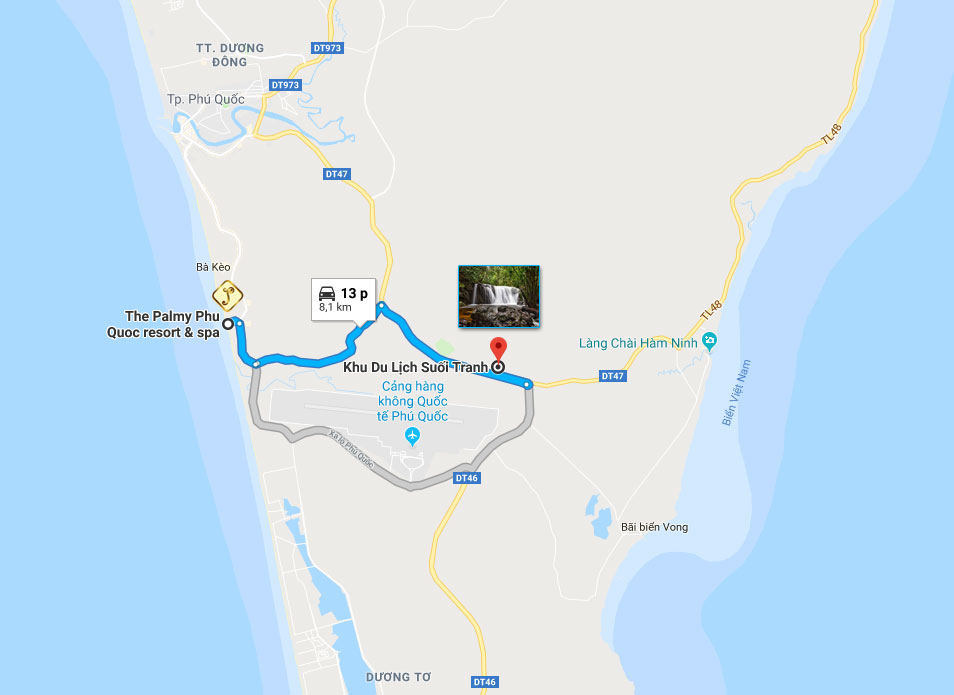 Click here to see directions on google map
It very easy to, from the Palmy Phu Quoc Resort & Spa, it will take about 15 minutes to get the Suoi Tranh Eco Park. Head south on Tran Hung Dao Street toward the airport and at the roundabout, before the airport, turn left. Travel for about 5 minutes until you reach the end of the road and then make a right on to the main road. Travel for another 7 minutes and on your left hand site you will see giant concrete gate.
Admission:
Adult: 10,000 vnđ ~ 0,4 usd
Child: 5,000 vnd ~ 0,2 usd
Car parking: 10,000 vnđ ~ 0,4 usd
Motorbike parking: 2,000 vnd ~ 0,08 usd
Wish you have a relax time at the Tranh Waterfall